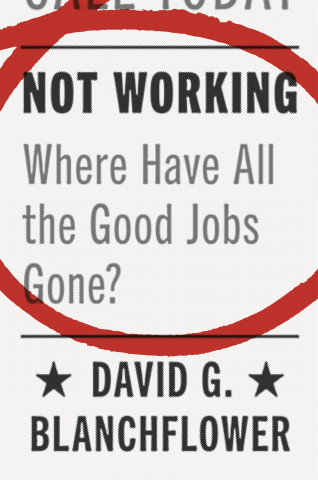 GLO – supported special issue of the International Journal of Manpower on 'School-to-Work Transitions'
November, 11-13, 2019. Sydney/Australia, Macquarie University: GLO supported Inaugural Workshop on Health, Inequality and Behavior. Call for abstracts, deadline: August 16. CONFERENCE WEBSITE.
New GLO Country Leads for Costa Rica (José Manuel Salazar-Xirinachs) & Hungary (János Köllő)
GLO Cluster Head South-East Asia M Niaz Asadullah and Theresa Chen on "Asia's Student-debt Time Bomb" The Project Syndicate, 25 June 2019.
Friederike Welter & André Pahnke on 'The German Mittelstand'
GLO Fellows Elsa Fornero, Jonathan Portes, Martin Kahanec and GLO President Klaus F. Zimmermann have debated the consequences and perspectives of the European elections for Europe: June 5, 2019 in Budapest.
GLO Policy Director Azita Berar Awad celebrates a century of ILO: GLO Policy News No. 1 available
GLO Research Director Danny Blanchflower publishes challenging new book in June 2019: Where are all the good jobs?
GLO President provides the George Soros Lecture at the Central European University (CEU) in Budapest on May 8, 2019. REPORT.
Take Microeconometrics with Professor Jeffrey M. Wooldridge at the University of Kent on 16-17 May 2019: Deadline for registration is April 30.
Joint UMS-GLO Public Lecture at University Malaysia Sabah with GLO Malaysia Lead M. Niaz Asadullah on April 17, 2019.
World Talent Alliance: Klaus F. Zimmermann represents GLO in Hong Kong on April 10, 2019.
Jo Ritzen presents German version of his book 'A second chance for Europe' in Berlin on April 5, 2019.
Africa conference Call for Papers: Kigali June 2019 Submission: Deadline: April 30!!
GLO supported conferences in Romania: Brasov (31 May – June 1) & Bucharest (23-24 May)
Klaus F. Zimmermann appointed George Soros Visiting Chair at the Central European University (CEU), Budapest. See also this post.
Francesco Pastore & Marco Pompili on 'What works for youth employment?': GLO Research for Policy Note.
Klaus F. Zimmermann spoke in Kuala Lumpur, Kota Kinabalu and Guangzhou
Azita Berar on 'Automation, jobs and inequality': GLO Policy Brief.
Issue 2/2019 of the Journal of Population Economics out & 10 new Associate Editors.
GLO Policy Director Azita Berar heads the GLO Policy Forum! Find out how to contribute!
Robert Holzmann will head the Austrian National Central Bank.
Marco Leonardi on the Italian labor market reforms and his new book.
Pauline Osse on 20 years of WageIndicator.
Nauro Campos, Jonathan Portes, Martin Kahanec and Klaus F. Zimmermann on the Brexit. UK view; continental view.
Dorothea Schäfer on her role as new Editor-in-Chief of the Eurasian Economic Review.
Yoo-Mi Chin on her Kuznets Prize article about the HIV/AIDS pandemic in Africa in the Journal of Population Economics.
Alfredo Toro Hardy on the Latin American view of globalization.
GLO Background:
The Global Labor Organization (GLO) is an international, independent, non-partisan and non-governmental organization that has no institutional position. It deals with the the challenges and benefits of globalization and international collaborations since March 2017. The GLO functions as an global network and virtual platform for researchers, policy makers, practitioners and the general public interested in scientific research and its policy and societal implications on global labor markets, demographic challenges and human resources. These topics are defined broadly to embrace the global diversity of markets, institutions, and policy challenges, covering advanced economies as well as transition and less developed countries. Read more about the Motivation, Goals and Spirit in our Mission.
The GLO is a leading and global research and policy network on labor, demographics and human resources.
The GLO is supported by individuals  as well as organizations with a thematic interest and a strong ambition to contribute to an effective global network and to benefit from it.
The GLO Network currently consists of about 1,600 individuals and 35 organizations covering over 120 countries.
Interested in joining the GLO network?
Please register to join the GLO.
Follow the GLO on LinkedIn, Twitter and Facebook !