The handbook in "Labor, Human Resources and Population Economics" provides an integrated picture of knowledge about the economic and social behaviors and interactions of human beings on markets, in households, in companies and in societies.

Interested to contribute? See below.
With a core basis in labor economics, human resources, demography and econometrics, it will provide a large and complete summary and evaluation of the scientific state of the art. Some of the chapters have a policy focus or a multidisciplinary perspective. Long survey chapters on core knowledge are combined with shorter frontier research chapters.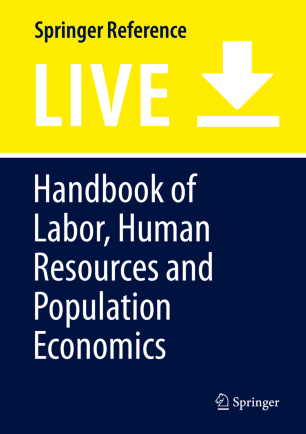 The handbook relates to relevant fields in law, behavioral science, psychology, health, biology, sociology and political science, among others, where basic human processes are considered.
This innovative research handbook contains 30 sections with about 20 chapters per section and average 20 pages in the range of 5,000 – 15,000 words per (10-30 pages) article. Each chapter is freshly produced, discussed and evaluated for quality, and immediately published on the handbook website after delivery and will/can be regularly updated. There will be also hardcover versions of the handbook.
Springer is part of Springer Nature, one of the world's leading global research, educational and professional publishers, created in 2015 through the combination of Nature Publishing Group, Palgrave Macmillan, Macmillan Education and Springer Science+Business Media.
The Editor of the handbook is GLO President Klaus F. Zimmermann.

He is supported by a larger number of active Section Editors including M. Niaz Asadullah, Nick Drydakis, Gil Epstein, Alfonso Flores-Lagunes, Colm Harmon, Uwe Jirjahn, Dave E. Marcotte, Mathilde Maurel, José Alberto Molina, Milena Nikolova, Olga Popova, Enrico Rettore, Sergio Scicchitano, Eva M. Sierminska, Kompal Sinha, Marie Claire Villeval, Victoria Vernon and Marco Vivarelli.

The influential GLO network with its high quality researchers provides a unique platform for support and debate of this exciting venture. This is a living reference work, where sections are developed and updated continuously over time. The first about 100 published papers are already accessible HERE.
Why is this a living reference work?
Draft chapters are circulated among researchers and presented at academic events for knowledge exchange and improvements as well as to strengthen visibility. Events are often available as videos online. Examine:
November 19-21, 2022. GLO Handbook Session on "Health" at the forthcoming conference of the Southern Economic Association, chaired by Kompal Sinha. Session Program.
July 7, 2022. GLO Handbook Session chaired by Klaus F. Zimmermann during the 40th EBES Conference. Program and Video. Report.
April 8, 2022: EBES 39 Rome Conference, GLO Handbook Session Covid-19 chaired by Sergio Scicchitano. VIDEO & Report.
October 8, 2021: EBES 37 Berlin Conference with GLO & FOM: GLO Handbook Session Migration II chaired by Marina Murat, VIDEO. Report.
October 8, 2021: EBES 37 Berlin Conference with GLO & FOM: GLO Handbook Session Family & Household Economics chaired by Victoria Vernon, VIDEO. Report.
October 7, 2021: EBES 37 Berlin Conference with GLO & FOM: GLO Handbook Session Migration I chaired by Cynthia Bansak, VIDEO. Report.
October 7, 2021: EBES 37 Berlin Conference with GLO & FOM: Plenary Speech based on the handbook chapter of Sriya Iyer on "Religion and Mental Health" chaired by Olga Popova, VIDEO. Report.
August 27, 2021. A number of handbook chapters related to the study of happiness were presented in the Five GLO/EHERO Special Sessions on Well-being at the International Society for Quality-of-Life Studies (ISQOLS) Annual Conference 2021. Detailed GLO/EHERO program. Report with Videos.
July 2, 2021. Six chapters from the Section "Worker Representation, Labor-Management Relations and Labor Standards" chaired by Uwe Jirjahn were presented in a special session at EBES 36. See for a report, program and video: LINK.
June 12, 2021. Three recorded Handbook migration chapters (Welfare Migration, Child Migration, Climate Change and Migration) of a GLO – IEA session in the context of the IEA World Congress 2021. LINK leads to program and video. See also the congress website of the IEA World Congress 2021.
June 7, 2021. Organized by POP@UNU-MERIT, GLO & Università Cattolica del Sacro Cuore and hosted by UNU-MERIT, Maastricht, an Online Workshop on "Technological Change, Employment & Skills" took place. The workshop presented the core findings of 10 chapters of the 20 review articles of the section on 'Technological Changes and the Labor Market'. MORE DETAILS. Video will become available soon.
May 17, 2021. Workshop of Academia Europaea (AE), Section Economics, Business & Management Sciences, with presentation of the core findings of two handbook chapters on migration and aging & technological change and labor. Report and video.
April 26, 2021. The 20 chapters of the Section "Technological Changes and the Labor Market" organized by Section Editor Marco Vivarelli are available online. LINK
You wish to contribute a chapter? You should know:
The section topics include: Ageing; Behavioral Economics; Conflict; Crime; Development; Discrimination; Education, Schooling and Human Capital; Entrepreneurship; Environment; Family; Household; Gender; Health; Personnel Economics and Human Resources Management; Inequality and Poverty; Institutions and International Organizations; Methods and Data; Migration; Mortality, Value of Life; Occupations; Political Economy of Human Resources; Program and Policy Evaluations; Regional Labor, Urban Economics and Economic Geography; Religion; Risky Behaviors; Technological Changes and the Labor Market; Worker Representation, Labor-Management Relations, Labor Standards; Wages; Welfare, Well-Being, Happiness; Covid-19.
Expected is an academic review and evaluation of the state-of-the-art of the literature, NOT a research article, focusing on all the global knowledge with no focus on a particular country or region. The survey article can be written alone or with co-author(s) within a period of about 6 months.
There is quality control by section editors, anonymous reviewers and/or workshop discussions of draft papers.
You wish to contribute a chapter? You should do:
Send a keyword (or a few keywords) of the potential chapter(s) and a link to your website/CV for identification. If several, please rank the keywords according to your interest. It is then examined whether proposals are already covered ( a few hundred chapters are already published HERE or are in production) or not of interest.
If of interest, you are then asked to deliver an abstract/outline for further agreement.
Please send all communications to: klaus.f.zimmermann@gmail.com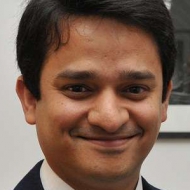 Ends;