The objectives of the GLO Policy Forum are to:
Draw and disseminate to a wider audience policy-relevant findings of research undertaken by GLO members;
Foster a community of research and policy dialogue among GLO members on priority policy issues pertinent to the contemporary world of work at the local and global level, and in different regions;
Encourage and support research on policy issues and the active engagement of academia in policy discussion and debate, as invited, for instance, by the 2030 Sustainable Development Agenda of the United Nations.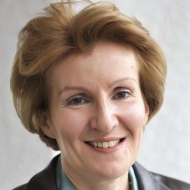 The GLO Policy Forum is moderated by GLO Policy Director Azita Berar.
She has been the Director of the Employment Policy Department of the International Labor Organization (ILO) in the period 2006 – 2017, working for the institution since 1983. In this position, she was responsible for the development of ILO's approach to promoting full, productive, decent and freely chosen employment. She has a long and deep experience providing policy advice, leading policy-oriented research, publications and dissemination, on a broad range of employment, labor market and social policy issues, on a global scale in diverse environments. She is a Senior Fellow at the Graduate Institute of International and Development Studies in Geneva, Switzerland.
Program
We have identified 10 priority themes of global and local significance for policies in a diversity of contexts:
Full employment and quality of work
Inequalities and labor markets
Future of Work: automation, digitalization, platform economies, etc.
Population dynamics including (i) youth employment and participation and (ii) ageing and labor markets
Gender equality
Environment, jobs and "just" transitions
Informal economy and transition to formality
Conflict and peace: economics and jobs
Education, Skills and/ or Health policies and labor markets
Migration
Three types of outlets will be issued in the Policy Forum: (i) Policy Briefs, (ii) Research for Policy Notes and (iii) Policy News.
A Policy Brief provides a succinct overview and commentary by a GLO member(s) of a topical policy issue subject of open debate, supported by own and a larger body of research and evidence and/or experience.
A Research for Policy Note summarizes the key findings of research (scientific article, working paper, monograph) by GLO members and highlights the policy takeaway that the research brings about.
Policy News report about important policy developments and decisions taking place in national and global contexts, analyzed by GLO members.
All aim at making policy-relevant research findings and analysis of GLO accessible on the WEB to a wider audience. To readers that may not have the time and opportunity to surf through a large body of published or unpublished expert and academic research and to draw the appropriate policy implications.
Format and style
In keeping with the objective of the GLO Policy Forum, the submissions should adhere to a direct, logical, clear and snappy style. The text should be succinct and informative of 800 to 1200 words (maximum length including references). It would typically include three parts: 1. An opening paragraph on the Policy topic or Research subject or the News event; 2. The main content of policy analysis and/or key findings of research which could be presented in a bulleted style and could include selected charts and graphs (where authors have to clarify the copyright issue) and 3. A paragraph on the major policy takeaway from above analysis or research. The Policy Brief will include supporting references and the Research for Policy will provide the link to the full paper.
Invitation to contribute
Members of the GLO Network are invited to submit suggestions referring to the ten themes and as per the indicated format, to azita.berar@graduateinstitute.ch. They will be contacted by the GLO Policy Director to discuss and finalize submission. GLO management may also reach out to members for additional timely and topical contributions.
Among the Bloggers will be prominent GLO Fellows like:
Azita Berar

Danny Blanchflower

Michele Bruni

Nauro Campos

Xi Chen

Andrew Clark

Shuaizhang Feng

Carol Graham

Almas Heshmati

Marco Leonardi

Milena Nikolova

Olena Nizalova

Francesco Pastore

Sonia Plaza

Jonathan Portes

Marco Vivarelli

Friederike Welter

Rainer Winkelmann

Chunbing Xing

Klaus F. Zimmermann
Ends;