Countries around the world have made significant economic progress in recent times. This progress has also witnessed growing disparities in socioeconomic status, destitution, health within and across nations. With the aim of enabling a dialogue on these issues the overarching objective of this GLO cluster is to congregate research focussing on how our lives are shaped by the nexus between development, health and inequality.
Cluster Lead: Kompal Sinha
Kompal Sinha is an Associate Professor at the Department of Economics of Macquarie University. Sinha is also an Editor of the Journal of Population Economics and Section Editor "Health" of the Handbook of Labor, Human Resources and Population Economics. She has worked before at the Center for Health Economics, Department of Econometrics and Business Statistics and Department of Economics at Monash University. She has received her Ph.D. from the Australian National University. Her research deals with economic effects of consumer behavior, particularly in the area of health economics and development economics and the impacts on the design of economic policy. She has frequently published in journals like Health Economics, Journal of Economic Behavior and Organization, American Journal for Agricultural Economics, Social Science and Medicine, Macroeconomic Dynamics, Review of Income and Wealth and Journal of Biosocial Sciences.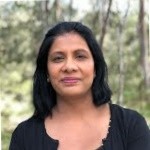 2023 Activities:
June 8-9: Sydney, Australia. 18th Australasian Development Economics Workshop. JOPE Editor Kompal Sinha is Chair of the organizing committee. More information.
2022 Activities:
Session on "Health" at the conference of the Southern Economic Association, November 19 – 21, 2022. Session Program.
2019 Activities: