The Global Labor Organization (GLO) is supported by individuals (fellows and affiliates) as well as organizations with a thematic interest and a strong ambition to contribute to an effective global network and to benefit from it. The global network provides research, evidence, best practice and on this basis concrete policy proposals and good information in context for the public at large. It profits from the network synergies as well as the crucial collaboration and dissemination opportunities.
The Global Labor Organization (GLO) is a leading global research and policy network on labor, demographics and human resources.
The GLO Network currently consists of over 1,800 Fellows and Affiliates  and 35 supporting institutions covering over 120 countries.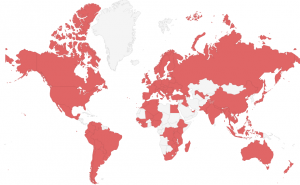 Institutions
There are members (with a regular financial contribution) and supporters. Institutions who wish to become supporter or member should contact the GLO.
Individuals
Any individual with an explicit thematic interest can join as GLO Affiliate.
Required is (i) an informal statement explaining this interest and (ii) the link to a website with a bio or CV. In case of academics, the information provided should contain a list of publications. In case of no available website please submit also a CV to office@glabor.org or provide the email address of a GLO Fellow or GLO Affiliate who can verify your identity.
Based on (i) merit and (ii) active collaboration and quality contributions the Executive Board of GLO appoints GLO Fellows from the group of GLO Affiliates.
Hence, while anybody can apply for GLO Affiliate, there is no nomination procedure for GLO Fellow. All applicants will immediately examined for position of GLO Affiliate or GLO Fellow. Senior people will be typically appointed GLO Fellow.
To join GLO please submit your request at the website here
.
Please follow the
GLO
on
LinkedIn
,
Twitter
and
Facebook
!