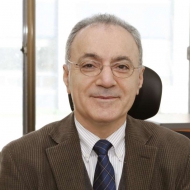 Almas Heshmati is Professor of Economics at Jönköping University, Sweden.
He held similar positions at the Sogang University, Korea University, Seoul National University, University of Kurdistan Hawler, and the MTT Agrifood Research (Finland). He was Research Fellow at the World Institute for Development Economics Research (WIDER), The United Nations University during 2001-2004. From 1998 until 2001, he was an Associate Professor of Economics at the Stockholm School of Economics. He has a Ph.D. degree from the University of Gothenburg (1994), where he held a Senior Researcher position until 1998.
In addition to more than 150 scientific journal articles he has published books on EU Lisbon Process, Global Inequality, East Asian Manufacturing, Chinese Economy, Technology Transfer, Information Technology, Water Resources, Landmines, Power Generation, Renewable Energy, Development Economics, World Values, Poverty and Economic Growth.
His research interests include applied microeconomics, globalization, development strategy, efficiency, productivity and growth with application to manufacturing and services. In recent years his research is on development economics and growth in Africa.
He is the GLO Cluster Lead "Labor Markets in Africa".
This user account status is Approved