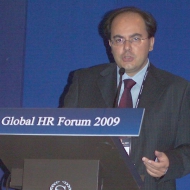 Francesco Pastore [Ph.D. (Sussex); Dottorato ("Federico II"); M.Sc. (Coripe-Piemonte); Laurea ("Federico II")] qualified as full professor of Economic Policy and as Associate Professor of Economics and Economic Statistics in 2013. Currently, he is Associate Professor of Economics at University of Campania Luigi Vanvitelli; research fellow of the IZA of Bonn; country lead for Italy and lead of the cluster on the school-to-work transition of the Global Labor Organization; and member of the executive board of the European Association of Comparative Economic Studies (from 2018) and the Italian Association of Comparative Economic Studies (from 2014).
Previously, he has been the Secretary of the Italian Association of Labor Economists (2010-'16).
He is also a member of the editorial board of a number of renowned internationmal journals, such as, among others, Journal of Population Economics, International Journal of Manpower, Sage Open, Scuola democratica – Learning for Democracy, Review of Middle East Economics and Finance, Romanian Journal of Economic Forecasting.
His research activity has embraced such issues as the evaluation of employment policy the school-to-work transition, the role of employment services, regional unemployment and industrial restructuring, economic inequality, gender discrimination, the determinants of trade and capital flow, the transition from plan to market, the analysis of non-profit organizations. His research focus has been on EU countries, especially Italy and the new EU member states, and a number of developing and transition countries.
He has acted as a consultant for a number of national (Fondazione Brodolini, Formez, Ismeri Europa) and international agencies such as, among others, the EU Commission, ILO, UNDP and World Bank. He has run a number of research projects within the context of the ESF.
He has published two edited books for Springer Verlag within the series of the AIEL (Italian Association of Labor Economics), four special issues of the International Journal of Manpower and a large number of articles in such journals as, among others: Journal of Economic Surveys, Economics of Education Review, Social Indicators Research, Studies in Higher Education, Stata Journal, European Journal of Development Research, Economics of Transition.
In 2015, he has published a Springer Briefs book on: "The Youth Experience Gap. Explaining National Differences in the School-to-Work Transition".
His evidence based, policy oriented and thought-provoking hundreds of columns are the object of much debate not only in the academic world, but also in the media and the social networks.
He regularly keeps a blog for Il Fatto Quotidiano with many followers: https://www.ilfattoquotidiano.it/blog/fpastore/
He regularly contributes columns to such online popular magazines as Lavoce.info, Social Europe, Linkiesta, NelMerito, Learning4. He is in the editorial board of NelMerito.com and Learning4.
This user account status is Approved