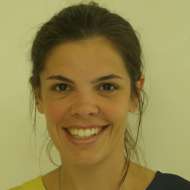 Experienced French Researcher and Assistant Professor in Economics, with a solid European think tank background and international teaching experience, Dr. Hélène is currently based in Egypt (since 2014).
Hélène has a very good knowledge of economics of migration, behavioural economics and labour economics. She conducts most of her research in these fields and is keen on developing her econometrics skills. Fond of travelling, she has lived and given classes in three different continents (Europe, Africa, and Asia) to more than 25 different student nationalities.
She has worked as a consultant on migration for different private organizations and research centers, has a solid expertise in EU-decision making process and policies.
Hélène provides policy inputs, participates regularly in public debates and enjoys taking part as a scientist on research projects and expert groups.
Presently, she is Executive Director of ESLSCA Research Center, at ESLSCA Egypt University. She has been in charge of setting up a veritable research community within the institution by providing students and faculty with core research facilities and services.
This user account status is Approved