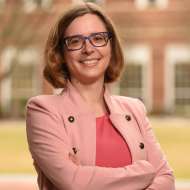 EDUCATION: B.A., University of Oxford (2008); M.A., University of Michigan (2010); Ph.D., University of Michigan (2014).
RESEARCH INTERESTS: Development Economics, Labor Economics, and Political Economy.
PARTICULARLY INTERESTED IN: Consequences of government policy, how economic conditions interact with cultural traditions at the household level, and analysis of violent societal conflicts.
CONNECTIONS: Affiliated with APRIES (African Programming & Research Initiative to End Slavery) at University of Georgia's Center on Human Trafficking Research & Outreach (CenHTRO). Member of the Global Young Academy (GYA) and the Co-Lead of its Science Advice Working Group.
PUBLICATIONS: Review of Economics and Statistics, Journal of Development Economics, Journal of Human Resources, Journal of Public Economics, Economic Development and Cultural Change, International Migration Review, World Development, Journal of Development Studies, Economics of Peace and Security Journal, Economics Letters, among others.
This user account status is Approved