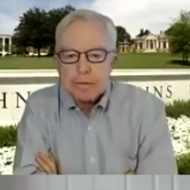 Robert A. Moffitt is the Krieger-Eisenhower Professor of Economics at Johns Hopkins University and holds a joint appointment at the Johns Hopkins Bloomberg School of Public Health. He obtained his Ph.D. degree from Brown University. His research interests are in the areas of labor economics and applied microeconometrics, with a special focus on the economics of issues relating to the low-income population in the U.S.. A large portion of his research has concerned the labor supply decisions of female heads of family and its response to the U.S. welfare system. He has published on the AFDC, Food Stamp, and Medicaid programs.
Moffitt has served as Chief Editor of the American Economic Review, Coeditor of the Review of Economics and Statistics, Chief Editor of the Journal of Human Resources, and as Chair of the National Academy of Sciences Panel to Evaluate Welfare Reform. He is currently editor of Tax Policy and the Economy.
Moffitt is also a Fellow of the Econometric Society, a Fellow of the Society of Labor Economists, a member of the National Academy of Sciences, a recipient of a MERIT Award from the National Institutes of Health, a recipient of a Guggenheim Fellowship, a Fellow of the American Academy of Arts and Sciences, and Past President of the Population Association of America.
This user account status is Approved