The Asian and Australasian Society of Labour Economics (AASLE) was founded to promote research and cooperation in Labour and Applied Economics across Asia and Australasia. The inaugural conference of the AASLE brought together over 400 researchers and over 120 papers from around the world and was hosted by the Australian National University Research School of Economics in Canberra, Australia, from 7-9 December 2017. The event has been impressive and was a huge success.
The event was organized by Christian Dustmann, University College London; Bob Gregory, Australian National University and GLO; Xin Meng, Australian National University and GLO; John Tang, Australian National University; Matthew Gray, Australian National University.
See here for the conference program.
The Global Labor Organization (GLO) had early on welcomed this initiative and has supported it through a special GLO session. A large number of GLO Fellows were participating in the event and were presenting papers in other sessions.  The session was chaired by GLO Country Lead Australia, John Haisken-DeNew (Melbourne University). Here is the GLO session:
1‐H GLO Session on "Human Capital"
Thursday 7th December 2017
NPC Bourke
Chair: Haisken‐DeNew John
Unawareness and Selective Disclosure: The Effect of School Quality Information on Property Prices
John Haisken-DeNew*1, Syed Hasan2, Nikhil Jha3, Mathias Sinning4
1University of Melbourne, Australia, 2Australian National University, Australia, 3University of Melbourne, Australia, 4Australian National University, Australia
View Full Paper
Chess and Children in Rural Bangladesh: Effects on Cognitive and Non-Cognitive Skills
Asadul Islam1, Wang-Sheng Lee*2, Aaron Nicholas2
1Monash University, Australia, 2Deakin University, Australia
View Full Paper
Status at Entry and the Labor Market Integration of Migrants
Amelie F. Constant1, Klaus F. Zimmermann*2
1Princeton University and GLO, USA, 2UNU-MERIT, The Netherlands and GLO
View Full Paper
 * Paper presenter.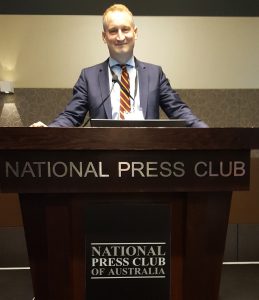 John Haisken-DeNew chairing the GLO session at the AASLE meeting in Canberra.
GLO President Klaus F. Zimmermann was presenting a paper in the GLO session and another one in a general parallel session.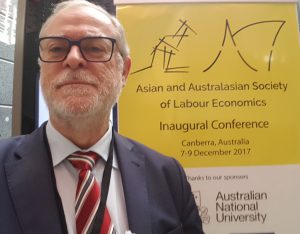 Ends;