Successful GLO conferences in October/November 2018:
October 31 – November 2: Hong Kong. FOM-KAS-GLO Joint Research Conference. "Climate Change and Human Responses" Reports:  DAY ONE, DAY TWO, DAY THREE Joint organizers were: Peter Hefele (KAS RECAP, Hong Kong); Klaus F. Zimmermann (UNU-MERIT, Maastricht University and GLO); Andreas Oberheitmann (FOM, RWI and GLO):
20-21 October Renmin University – GLO conference: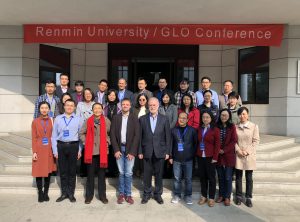 Forthcoming submission deadlines of GLO – supported conferences:

Breaking News: GLO President will be also EBES President from 1 January 2019 on.

Further NEWS
GLO Background:
The Global Labor Organization (GLO) is an international, independent, non-partisan and non-governmental organization that has no institutional position. It deals with the the challenges and benefits of globalization and international collaborations since March 2017. The GLO functions as an global network and virtual platform for researchers, policy makers, practitioners and the general public interested in scientific research and its policy and societal implications on global labor markets, demographic challenges and human resources. These topics are defined broadly to embrace the global diversity of markets, institutions, and policy challenges, covering advanced economies as well as transition and less developed countries.  Read more about the Motivation, Goals and Spirit in our Mission.
The GLO is a leading and global research and policy network on labor, demographics and human resources.
The GLO is supported by individuals  as well as organizations with a thematic interest and a strong ambition to contribute to an effective global network and to benefit from it.
The GLO Network currently consists of about 1,300 individuals and 33 organizations covering over 120 countries.
Interested in joining the GLO network?
Please register to join the GLO.
Follow the GLO on LinkedIn, Twitter and Facebook !