September 18, 2017: GLO Fellow John P. Haisken-DeNew of Melbourne University visited POP at UNU-MERIT  to meet and discuss research projects with Klaus F. Zimmermann, Co-Director POP at UNU-MERIT and President of the Global Labor Organization (GLO). On this occasion,  Haisken-DeNew presented a paper in the UNU-MERIT/School of Governance Seminar at noon on:
The seminar was chaired by Hugo Confraria (Joint UNU-MERIT/MGSoG Seminar Series); a larger number of UNU-MERIT students, researchers and professors, including GLO Fellow Melissa Siegel (UNU-MERIT), were participating and generated a lively debate.
Hugo Confraria (left) and John Haisken-DeNew during the seminar: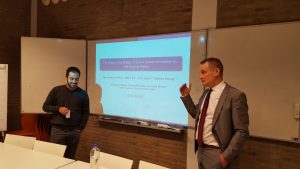 GLO Fellow John Haisken-DeNew (left) with GLO President Klaus F. Zimmermann in front of UNU-MERIT in Maastricht: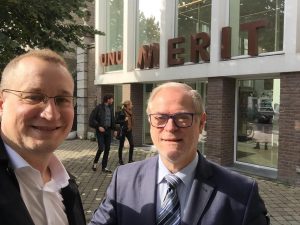 Haisken-DeNew and Zimmermann: Old friends and collaborators. They worked previously together at Universities of Mannheim and Munich, and at the German Institute for Economic Research  (DIW Berlin). They will soon continue their joint work when Zimmermann is visiting Melbourne University in November and December 2017.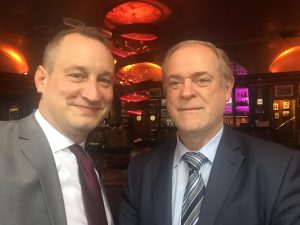 After the hour on September 18, 2017 in the "Alte Wartesaal" close to the main station of Cologne.

Ends;