The Institute for Economic and Social Research (IESR) at Jinan University and the Global Labor Organization (GLO) intensify their collaborations, as IESR Director Shuaizhang Feng and GLO President Klaus F. Zimmermann have declared.
IESR Director Shuaizhang Feng has been appointed GLO Country Lead China. IESR provides institutional support as a GLO-related institution and serves as a local host for GLO activities.
Third IESR-GLO Joint Conference. IESR and GLO are jointly organizing a virtual conference on the economic issues of Covid-19. The event is a platform for economists to exchange ideas on improving responses to Covid-19 through a series of presentations of high-quality academic papers. Keynote addresses by Daron Acemoglu (MIT) and Charles Manski (Northwestern University). The Virtual Conference takes place on June 5-7, 2020. Deadline for paper submission is May 24. MORE INFO.
Journal of Population Economics: Klaus F. Zimmermann is Editor-in-Chief; Shuaizhang Feng one of the Editors.
IESR-GLO Conferences 2018 – 2020.
2020 June 5-7: Guangzhou, Jinan University, China. Third IESR-GLO Joint Conference on "The Economics of Covit-19". Virtual event. MORE INFO.
2019, March 21-22: Guangzhou, China. Jinan University. IESR-GLO Conference on "Belt and Road" Labor Markets. Organizers: Shuaizhang Feng and Klaus F. Zimmermann. A focus was China, South Asia and South East Asia. GLO News Report. IESR Report LINK WEBSITE.
2018, March 11-20: Guangzhou/China; Jinan University; Research and contact visit of the GLO President. Career seminar provided by the GLO President. First GLO-IESR Conference on "Labor Economics" and various paper presentations by GLO Fellows. Public Policy Lecture of the GLO President on European Migration. Debate with Editor of "Social Science in China" by the GLO President and Editor-in-Chief of the Journal of Population Economics. Debate with Dean & GLO Fellow Shuaizhang Feng by the GLO President on unemployment.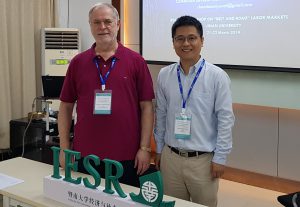 Ends;