A new book in the Springer series "Population Economics" offers the first comprehensive study on rural-urban migration in Vietnam and analyzes the challenges for policy making. It uses extensive qualitative and quantitative data to explore the impact of rural-urban migration on migrants and their families. The book provides useful experiences for other developing countries.
Amy Y.C. Liu with Xin Meng, Editors (2019)
Rural-Urban Migration in Vietnam
Population Economics Series, Springer
GLO Fellows Amy Y.C. Liu & Xin Meng

Dr. Amy Y.C. Liu is Honorary Senior Lecturer, Graduate Studies in International and Development Economics, Crawford School of Public Policy, Australian National University, Canberra. Her key research interests to date have been wage structure, gender inequality and labor outcomes, human capital investment, and poverty. Her work on Vietnam's transition to a market economy has been published in peer-reviewed international economics journals and was widely recognized by media.

Prof. Xin Meng works at the Research School of Economics, College of Business and Economics, Australian National University. Her main research interests to date have been the themes of China's labor market, poverty, income inequality, human capital development, the economic implications of rural-urban migration, and the influence of institutions and culture on human behavior and on gender discrimination. Prof. Meng has published papers in numerous leading peer-reviewed international journals.
Abstract: This edited volume is the first publication using a new data set, Rural-Urban Migration in China and Vietnam (VRUMS2013). The questionnaire was particularly designed to collect information on rural-urban migrants and their families in Vietnam and was also linked to the national representative Vietnam Household Living Standards Survey 2012. Using this data and other data sources, this edited volume provides a comprehensive overview of rural-urban migration in Vietnam. It addresses a wide range of important topics, including Vietnam's household registration system (ho khau), migration trends, remittance behavior and social networking. In addition, it examines migrants' earnings, their children's schooling, housing issues and their families' consumption behavior in the cities they migrated to.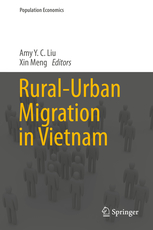 Amy Liu

Xin Meng
Ends;