The Center for China and Globalization (CCG) has joined the institutions supporting the Global Labor Organization (GLO). This was agreed during a recent visit of GLO President Klaus F. Zimmermann at CCG with CCG President Henry Wang. Wang, who is also a GLO Fellow, and Zimmermann have collaborated in the past over a long period. GLO will support the 2020 International Conference on Global Migration and Talent Mobility, CCG is organizing in Beijing on June 12-14, 2020 together with Metropolis China and Metropolis Asia. Zimmermann was the local organizer of the 2008 International Metropolis Conference in Bonn.

The Center for China and Globalization (CCG) is a leading Chinese non-government think tank based in Beijing. It is dedicated to the study of Chinese public policy and globalization. CCG's research agenda centers on China's growing role in the world, drawing from issues of global governance, global trade and investment, global migration, international relations, and other topics pertaining to regional and global development. CCG is a not-for-profit and non-governmental organization registered with the civil affairs system of Chinese authorities. It is independently funded by research grants and donations from private and corporate donors. For years, CCG has been ranked by the Think Tank and Civil Society Program (TTCSP) at University of Pennsylvania as one of the world's top 50 independent think tanks.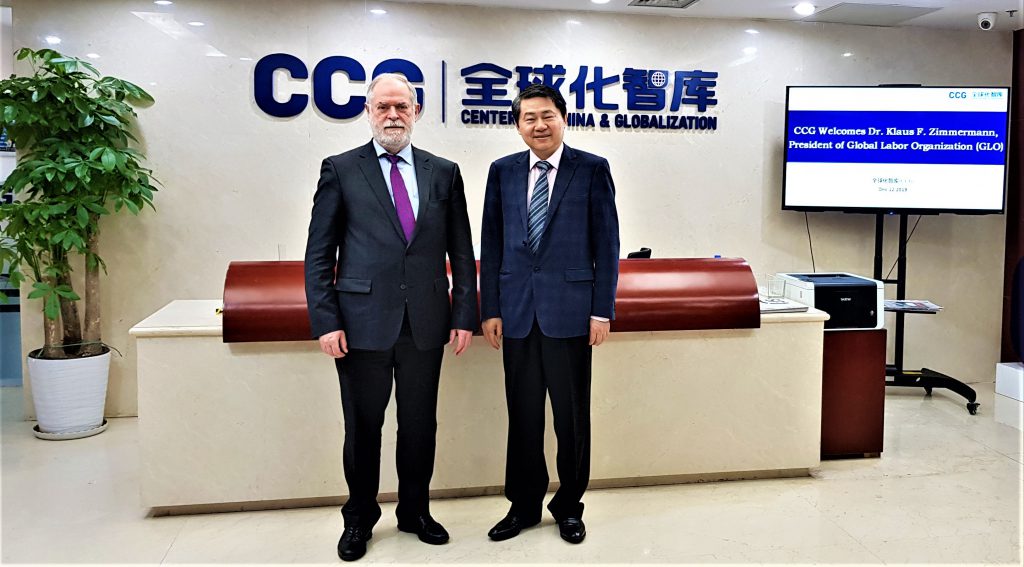 Left: CCG-GLO collaboration discussions at the CCG headquarter on December 12, 2019 Right: Zimmermann speaking at the 2008 Metropolis conference in Bonn.
Ends;