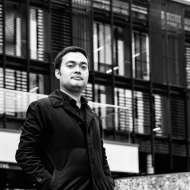 Dr Boidurjo Rick Mukhopadhyay, PhD, D.Sc, is a multi-disciplinary social scientist with experience in senior management, leadership and cross-cultural negotiation across 3 continents. Rick is an International Development and Management Economist working extensively with the Government Ministries, higher education industry, and think tanks across the UK, EU and China. He is currently researching, consulting and advising in the areas of Development and Environment Economics, Gig economy/ Collaborative Consumption, the Future of Work, Social Innovation and Entrepreneurship.
His research also explores triple-helix relations, the various institutional arrangements that support renewable energy-based entrepreneurship, and how the latter impacts rural development. Rick currently sits on editorial boards of over a dozen top international peer-reviewed journals and also serves as non-executive director for various nonprofits and charities. 
In higher education, Rick has direct experience with leading QAAs, EQUIS, revalidation, ERASMUS, international summer schools, curriculum development and convening, cross-cultural workplace management, blended learning course development and delivery - across UK, EU, and East Asia. Rick has taught 40+ modules in business, economics, international development across UG, PG, MBA, summer school, executive courses, and research-industry partnership development across UK, EU, and East Asia. 
Regional Focus - EU, China, Central Asia, Latin America
Selected Publications - https://www.researchgate.net/profile/Boidurjo_Mukhopadhyay
ORCID - 0000-0003-4830-3126
This user account status is Approved