Alzheimer's disease is the most common form of dementia in older adults. Globally, over 55 million people live with dementia, and there are nearly 10 million new cases every year. The aggregate financial burden of the disease is over $1 trillion annually. As population aging accelerates, the need for a better understanding of the disease and for better treatments presents an urgent and major health challenge globally.
In recognition of November as Alzheimer's Disease Awareness Month, Xi Chen (Yale University and GLO) served as guest editor of a special issue of the China CDC Weekly focused on Alzheimer's disease and related dementias (ADRD) worldwide. The product is based on work of research teams at Yale University, London School of Economics, New York University, University of Cambridge, University of Washington, Peking University, Cornell University, and the Chinese University of Hong Kong.
That special publication can be accessed here.

Yale Alzheimer's Disease Research Center is organizing together with China CDC Weekly and the Global Labor Organization a launch event as a pre-conference event of the GLO Global Conference 2022 (December 1-3, 2022):
Alzheimer's Disease Awareness Month, November 2022
CCDC Weekly Special Issue Special issue released on November 11, 2022.
Guest Editor: Xi Chen
Zhuoer Lin, Fang Ba, Heather Allore, Gordon G Liu, Xi Chen. Geographic Variation in Inpatient Care Utilization, Outcomes and Costs for Dementia Patients Aged 65 Years or Older — China, 2017–2019. China CDC Weekly, 2022, 4(45): 997-1001. doi: 10.46234/ccdcw2022.202
Nam Sun Choi, Tianzi Li, Jingxiang Pan, Selena Yue, Jing Li. COVID-19 Stay-At-Home Orders and Older Adults' Cognitive Health — United States, June 2018–February 2022. China CDC Weekly, 2022, 4(45): 1002-1006. doi: 10.46234/ccdcw2022.203
Shanquan Chen, Xi Chen, Huanyu Zhang. Polypharmacy Among People Living with Dementia — Israel and 24 Countries in European Union, 2015–2019. China CDC Weekly, 2022, 4(45): 1007-1012. doi: 10.46234/ccdcw2022.204
Binjian Yan, Shuaifeng Gao, Minlei Dai, Thomas M. Gill, Xi Chen. Early-Life Circumstances and Cross-Country Disparities in Cognition Among Older Populations — China, the US, and the EU, 2008–2018. China CDC Weekly, 2022, 4(45): 1013-1018. doi: 10.46234/ccdcw2022.205
Yaolin Pei, Xiang Qi, Zhen Cong, and Bei Wu. Chinese American Caregivers' Attitude toward Tube Feeding for Persons with Dementia. China CDC Weekly, 2022, in press
Bo Hu, Raphael Wittenberg, Martin Knapp, Derek King. Long-term Care Utilization in People Living with Dementia – England, 2015-2017. China CDC Weekly, 2022, in preparation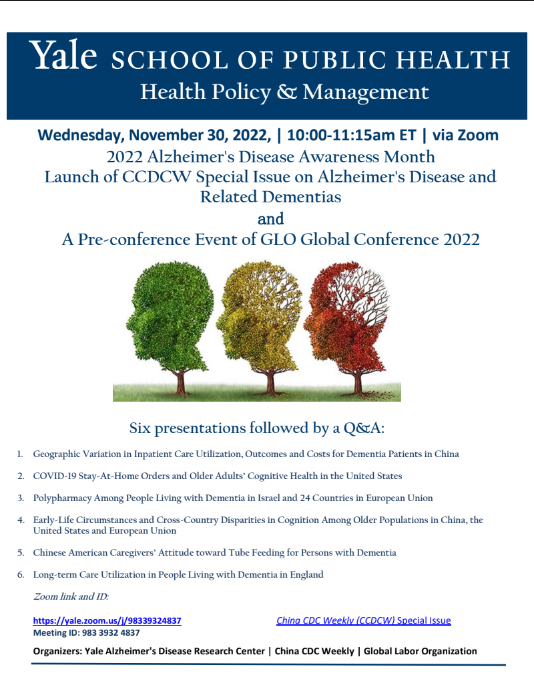 Ends;